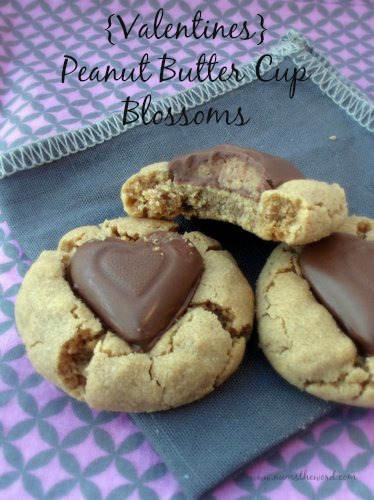 I have seen several ideas just like this or similar to it this Valentine's season. Here I was thinking I was so clever, and my husband praised me that they were the best cookies EVER (we're big chocolate and peanut butter fans over here). And then the very next day I see 2 very similar recipes pop up on that pesky Pinterest. Oh, well. These are still delicious.
Like ridiculously good. As in, I made a batch after the kids went to bed and by the time I got around to trying one there were only 2 left. That's right. My husband ate 10 of these before the chocolate even had time to cool all the way. So, it's only appropriate that I share this on Favorite Friday. This is definitely included in our family's list of all-time favorites.
Oh, and if you're wanting to make these during the not-hearts-everywhere season, we did also try making these with miniature Reese's cups. Not the new mini ones that are unwrapped. Why did they have to make that so confusing? I know there has to be a better way of classifying them than miniature and mini. So, not the smallest ones. That's not enough of the Reese's goodness, but the ones that are wrapped and come in a bag. Those work too. But my husband said the hearts were the best because they spread the flavor better over the whole cookie.
Let me tell you, it is so wonderful that I have someone who will be honest with me about things like that.
Peanut Butter Cup Blossoms
Ingredients
1 cup butter, softened
1 cup light brown sugar, packed
1/2 cup granulated sugar
2 eggs
2 teaspoons vanilla
1 1/2 cups creamy peanut butter
2 1/2 cups flour
1 teaspoon baking soda
about 30 Reese's peanut butter cups, unwrapped
Instructions
Cream butter and sugar for a few minutes, then add peanut butter.
Add eggs and vanilla, mix until combined.
Slowly add dry ingredients and stir just until combined.
Chill dough for at least 2 hours.
When ready to bake, preheat oven to 350.
Roll dough into tablespoon sized balls and place on baking sheet.
Bake 9-10 minutes until bottoms get slightly golden and cracks are just barely beginning to appear.
As soon as they come out of the oven, quickly press peanut butter cup into each cookie.
Allow to cool for a few minutes, then transfer to a cooling rack until completely set (if you can wait that long).
https://delectabilities.com/peanut-butter-cup-blossoms/
Adapted from Cookies and Cups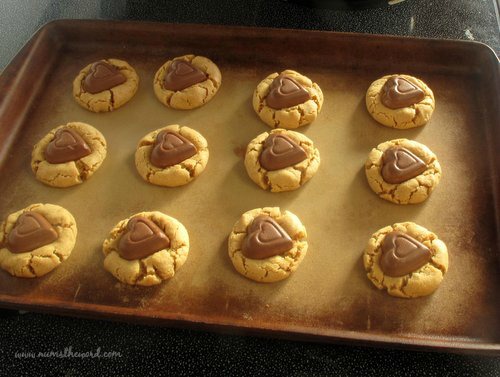 You Might Also Enjoy: