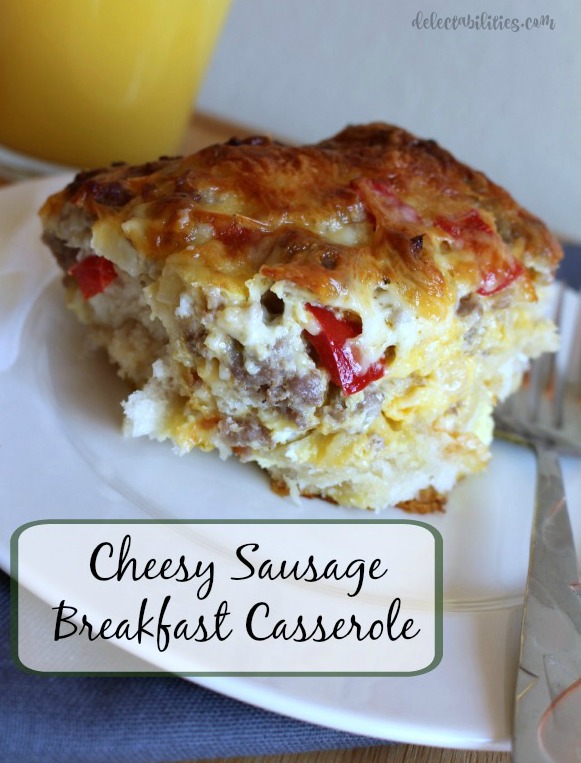 I think I've mentioned before that when I was little, it was my mom who did most of the cooking but my dad who really enjoyed it. One of the things that I remember him making is a breakfast casserole. I know that it involved bread and eggs and sausage, and sadly I remember not appreciating it at the time. It has to do with my issues with texture . . . and eggs. But I do remember it tasting good.
In the last few years I've wanted to try it again to see if my tastes had matured a bit, which I'm assuming they have.
I've tried a couple other breakfast casseroles, but to be honest there are even more that I don't try. Mostly because they take so long to make! I don't know about you, but I rarely think about what I'm going to have for breakfast the day before. Maybe on holidays or special occasions. But I like to have yummy breakfasts pretty much every weekend.
Which is why I like this particular Cheesy Sausage Breakfast Casserole. This is not my dad's recipe, nor is it close. But it has most of the good flavors and can be made all the same morning, in less than an hour. And it's cheesy. And flavorful. Not just eggs and bread with some sausage. My whole family loves it.
Cheesy Sausage Breakfast Casserole
Ingredients
1 pound pork sausage
1/2 cup chopped onion
3/4 cup chopped bell pepper
10 eggs
1/4 cup heavy cream
1 can (4oz) diced green chiles
2 cups shredded pepper Jack or Mexican cheese blend (I use 1 of each)
1 can (16oz) refrigerated biscuits
Instructions
Heat oven to 375 degrees F.
In large skillet, cook sausage, onion, and bell pepper over medium-high heat, stirring frequently until sausage is no longer pink.
In large bowl, beat eggs and cream. Then stir in 1 cup of cheese, green chiles, and sausage mixture.
Separate biscuits and cut each into 6 pieces.
Prepare a 13x9, or large round baking dish by spraying with cooking spray.
Place biscuit pieces in the bottom, then pour the sausage mixture over them.
Top with the remaining cup of cheese and bake for 25-30 minutes, or until egg mixture is set and crust is a deep golden brown.
Cool 5 minutes and then serve.
https://delectabilities.com/cheesy-sausage-breakfast-casserole/
Another Recipe We Think You'll Love…
Lemon Strawberry Ice Cream Pie