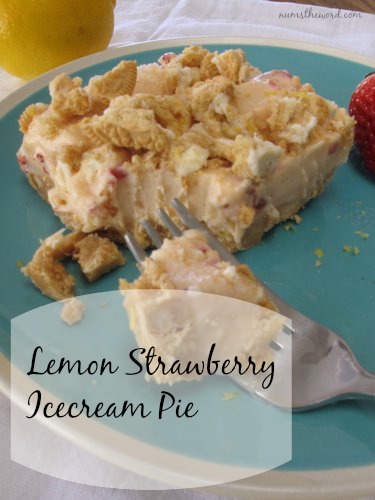 I love ice cream. I love ice cream cake, ice cream pie, ice cream sundaes, ice cream shakes…
You get it. Anything with ice cream and I am in! Also, I personally am of the opinion that frozen desserts are appropriate any time of the year.
And that definitely still applies to this particular treat, but the flavors just sort of scream "Warmer Weather!". Which is what I have been wanting to scream for the last few weeks myself. We finally have it, too! The windows are open, the kids are playing outside with no fear of being blown away, and generally we are happier to not be stuck indoors. We also get to enjoy yummy treats like this.
This one starts with an Oreo crust, but not just any Oreo crust, Lemon Oreo crust. I was able to find these at two different stores this spring, so hopefully you will be able to as well. If not, you can use Golden Oreos and even add a little lemon zest in there if you want. Then it's topped with Strawberry ice cream – the good stuff – with a little lemon zest added to it. That's it, really. Top it with more of your Oreos, or some whipped cream, or some sliced strawberries. It's seriously like summer in your mouth.
Lemon Strawberry Ice Cream Pie
Ingredients
25 lemon or golden Oreos
4 tablespoons butter, melted
1 quart good quality Strawberry Ice Cream (I used Blue Bell Vanilla with Strawberries)*
zest of 1 lemon
more Oreos, for topping
fresh Strawberries, for topping
whipped cream, for topping
Instructions
Preheat oven to 350 degrees.
Place Oreos in food processor and pulse till they are crushed finely (or put in a ziptop bag to crush).
Mix with melted butter until crumbly and press firmly in the bottom and sides of a pie plate or a square baking dish.
Bake for 5-7 minutes or until set (and it should smell rather yummy).
While crust is cooling, bring the ice cream out of the freezer to soften.
When the ice cream is soft enough to stir, add the lemon zest and stir to distribute evenly.
Spoon ice cream over cooled crust. Cover and freeze for at least an hour before serving.
Roughly chop some of the leftover Oreos for the top and serve with sliced strawberries and whipped cream.
Notes
*The point of this is to have ice cream with strawberries, not just ice cream that is flavored LIKE strawberries.
https://delectabilities.com/lemon-strawberry-ice-cream-pie/