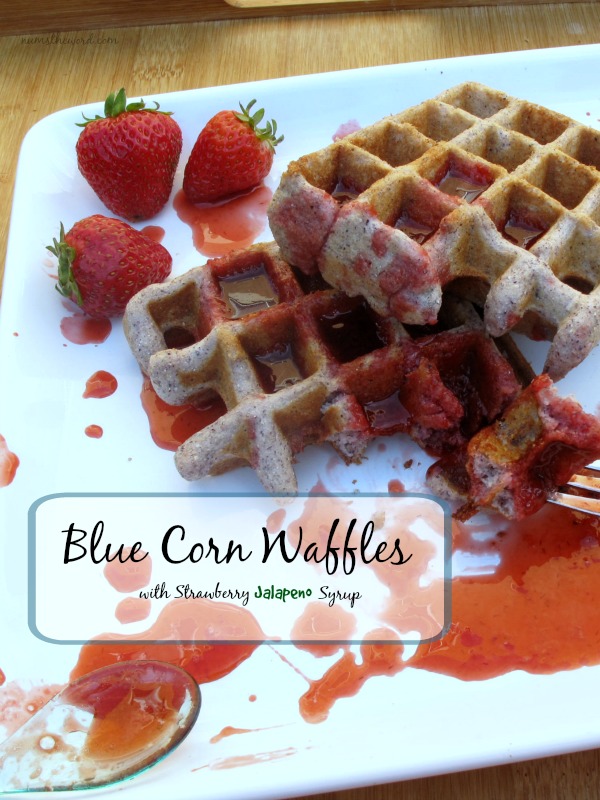 This summer my family moved to Santa Fe. Before moving here, all I really knew about it was the song from Newsies. And that doesn't tell you very much.
It is very different from any other place I've ever lived (it is known as the City Different) and I was a bit nervous coming here. It's only been 2 months, but I have to tell you that I'm sort of in love. The weather is fantastic and as far as the restaurant scene, well, I might be in foodie heaven. There is quite a bit of variety and it's all so good!
One of the things I noticed was a lot of Blue Corn: mostly tortillas and chips, but also the occasional baked good. They have a pretty popular donut shop here called Whoo's Donuts. These waffles were actually inspired by one of their blue corn flavored donuts.
Now, I was able to find blue cornmeal here at a local natural grocers, and you might have luck if you have a similar type store. It is also available online through Amazon here. It is similar, obviously, to yellow cornmeal, but I feel like it has a bit more of a subtle taste. Plus, it's blue. And that's super fun.
These waffles are just generally really yummy, fluffy waffles. My kids loved them with the basic butter and syrup. But I wanted something a little more fun, so I made a Strawberry Jalapeño Syrup. It's mostly sweet and all strawberry, but you do get a little kick from the jalapeño that makes it something new and fun. I hope you enjoy them as much as we do.
Ingredients
1 cup blue cornmeal
1/2 cup all-purpose flour
1 teaspoon baking powder
1/4 teaspoon baking soda
3 tablespoons sugar
1/2 teaspoon salt
1 1/2 cups buttermilk
1 egg
2 tablespoons butter, melted
Instructions
In large bowl, mix cornmeal, flour, baking powder, baking soda, sugar and salt.
In separate bowl mix together buttermilk, egg and melted butter.
Pour wet ingredients into dry and stir just until combined. Allow to sit for 5 minutes.
Heat waffle iron and cook waffles according to manufacturer instructions.
Notes
These freeze really well. Just put them in a ziploc bag to freeze and then toast one or two in the morning for a quick and easy breakfast!
https://delectabilities.com/blue-corn-waffles-strawberry-jalapeno-syrup/
Strawberry Jalapeño Syrup
Ingredients
16 oz. fresh strawberries, washed and tops removed
1 jalapeño, cut into rings*
1/3 cup sugar
1 teaspoon vanilla
Instructions
Place all ingredients in a large pot over medium heat, stir to combine.
Once it starts to bubble, turn down to low and simmer for about 15 minutes.
Stir occasionally, breaking down the strawberries.
There should be quite a bit of liquid. Don't cook too long or there won't be any syrup at all!
Strain into a bowl using a fine mesh sieve, or a colander with very fine holes (I actually used 2 colanders and it caught most of the chunks and only needed to remove 1 or 2 jalapeño seeds).
Pour into an airtight container and allow to cool.
Notes
I left half of the seeds in the jalapeño, and discarded the rest. There was just a bit of a kick, which is what I wanted. You could leave them all in, or take them all out. Just make sure to use gloves!
https://delectabilities.com/blue-corn-waffles-strawberry-jalapeno-syrup/
Another Recipe You Might Love…
Cinnamon Streusel Banana Bread