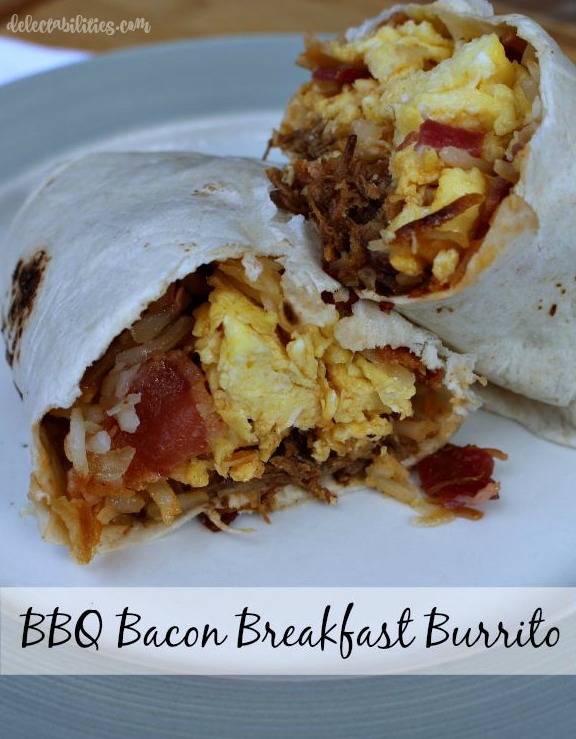 As I'm typing this, I feel the need to warn you that I'm extremely exhausted. Between being pregnant, moving across the country, having my kids home for the summer, not being able to sleep well when my husband is out on-call, and neighbors who like to trim the bushes right by our window until 1 am… Anyway, just thought I'd warn you. Luckily for you, these BBQ Bacon Breakfast Burritos are from before all that craziness.
These BBQ Bacon Breakfast Burritos are some of our favorite foods from Santa Fe. To be honest, re-creating this burrito is one of the main reasons we made the BBQ Beef Brisket in the first place.
Really, these contain some of the best things: breakfast, bacon, barbecue. Right?
And since you're making them at home, you can determine how much of each thing you want. My husband prefers lots of bacon and cheese and I put quite a bit more green chiles on mine.
No matter how you make them, lots of bacon, no bacon, green chiles or none, this is a fantastic meal.  Eat it for breakfast or do breakfast for dinner one night!  A tasty meal everyone will enjoy!
[/rs-responsive
BBQ Bacon Breakfast Burritos
Ingredients
4 large (burrito size) flour tortillas
6 eggs, beaten
8 pieces bacon
2 cups BBQ Beef Brisket, shredded
4 cups frozen shredded or cubed hashbrowns
1-2 cups shredded cheddar or Mexican blend cheese
optional toppings: green chiles, sour cream, salsa, avocado, barbecue sauce, hot sauce
Instructions
Cook bacon until crispy. Our preferred method is in the oven: lay strips of bacon on a sided and aluminum foil lined baking sheet and cook in preheated 400 degree oven for about 10-12 minutes, turning the baking sheet about half-way through cooking. This totally varies depending on the type of bacon, your oven, and how many pieces of bacon you're cooking. We usually check after 7 minutes, then turn the pan and cook for another 5.
Cook the hash browns according to the package directions, until browned and to your liking.
Cook the eggs, scrambled style in a skillet on the stovetop until cooked through.
Reheat the brisket, if using leftover, in the microwave for about 45 seconds to 1 minute.
To assemble:
Heat the tortillas in the microwave for about 15-20 seconds so that they're a bit more moldable.
Divided the brisket among the tortillas, then top with a portion of each the hash browns and eggs.
Top each with 2 pieces of bacon, broken up.
Top with desired amount of cheese and any other desired toppings.
Fold in the ends and then roll the burrito closed and enjoy!
https://delectabilities.com/bbq-bacon-breakfast-burritos/
Another Recipe We Think You'll Love…