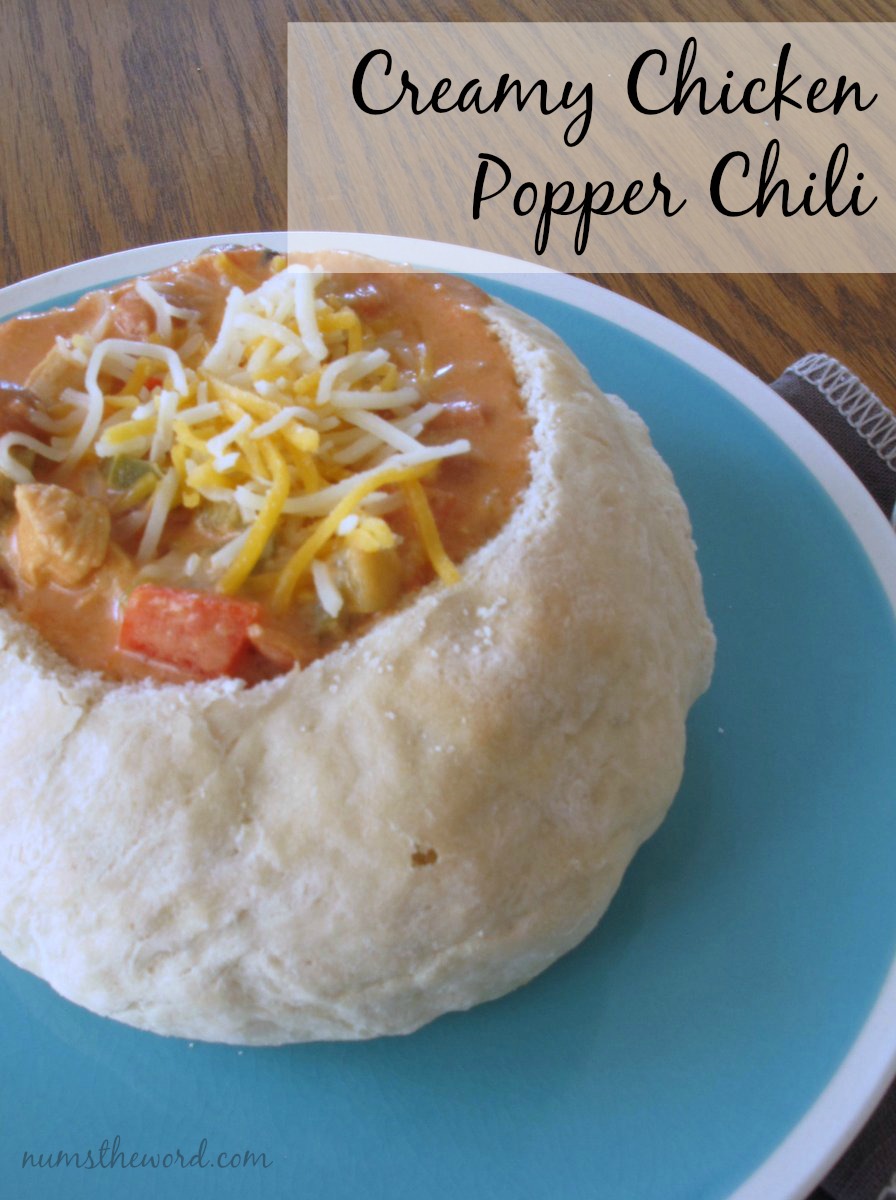 I must admit, I tried this chicken chili thinking my husband would love it. And he did.
But I'm the one that wanted to make it the second and third time in a month. It has quickly become one of my favorite soups.
It is easy to put together, it's got big chunks of chicken with lots of creamy goodness and just a kick of spicy.
Don't be worried about the jalapeños. The spice is really not that much. It all depends on how many of the seeds you leave in.
And speaking of jalapeño seeds. I'm going to say what nobody said to me the first time I dealt with hot peppers: wear gloves! My fingers were burning for several hours after my first experience cleaning out the seeds of a couple jalapeños. So, just do yourself a favor and wear gloves.
Also, make this soup. Because it's amazing. And it goes great with these bread bowls.
Creamy Chicken Popper Chili
Ingredients
1 large onion, chopped
2 cloves garlic, minced
2 tablespoons extra-virgin olive oil
1 red bell pepper, chopped
1 green bell pepper, chopped
3-4 jalapeños, sede and finely chopped
1 pound boneless skinless chicken breasts, cut into 1 inch pieces
salt and pepper
1 teaspoon cumin
1/2 teaspoon smoked paprika
1 tablespoon tomato paste
1 can (15 oz) fire roasted crushed tomatoes
1 can (4.5 oz) chopped green chiles
2 cups chicken broth
1 can white beans, rinsed and drained
5 ounces cream cheese
Instructions
In a large pot, heat olive oil over medium-high heat and sauté the onion, garlic, and all the peppers for about 5-7 minutes until softened.
Season the chicken with salt and pepper, then add to the pot and brown on all sides.
Add cumin, smoked paprika and tomato paste. Stir and cook 1 minute.
Add crushed tomatoes, green chiles, broth and beans and stir.
Bring to a boil, then lower heat and simmer for 45 minutes, stirring occasionally.
Add cream cheese about 10 minutes before serving and stir until completely melted.
Spoon into serving bowls and garnish with green onion and grated cheddar cheese.
Notes
https://delectabilities.com/creamy-chicken-popper-chili/
Another Recipe You Might Love…