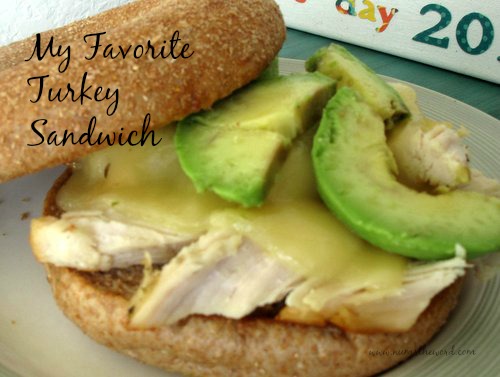 I thought I'd share with you my favorite way to eat leftover turkey. It is this delicious Grilled Turkey, Swiss and Avocado Sandwich. I know I am always looking for new ways to use the endless supply of turkey that always ends up in our house after Thanksgiving. Why is there always soooo much turkey and not a lot of the other stuff left? Even if you plan for how many people you're going to have, there is always turkey to use.
I would be fine using it all to make different variations of a turkey sandwich for the next week or so, but luckily my husband felt strongly enough about not doing that and is at this moment making some turkey soup for dinner. Gotta love that!
Anyway, back to this sandwich. It's very basic. But it truly is my favorite sandwich. I even use deli turkey if that's all I've got. The important part is the grill part. No matter which kind of turkey, it needs to be heated up and then topped with Swiss cheese and avocado slices. I even sometimes justify it as a breakfast sandwich. It is on a bagel, people.
Grilled Turkey, Swiss and Avocado
Ingredients
1 Bagel - I prefer a good quality whole wheat bagel
1/2 cup turkey - deli or otherwise
1 slice swiss cheese
3-4 slices avocado
1/2 tablespoon butter
Instructions
Melt butter on a griddle pan over medium to medium-high heat. Put turkey on one half and the bagel on the other half, face down (I don't really like my bread toasted or hard on a sandwich, but heated up and with a bit of a crisp on the inside is perfect).
Use a spatula to break up the turkey and get it grilled and heated through. Then add the cheese on top of the turkey and let it just melt. Move bagel to a plate, then place the whole lovely cheesy turkey bit to one side of the bagel.
Top with avocado slices and the other bagel half.
Notes
Sometimes I just use half a bagel and make it an open-face sandwich. Depends on what I feel like and how carbed out I am (like the day after Thanksgiving when I feel like all I ate the day before was carbs. Scrumptious carbs).
Also, my husband prefers everything spicy and likes this sandwich exactly as is, but with a slice of pepper-jack cheese instead of swiss.
https://delectabilities.com/turkey-swiss-and-avocado/
You Might Also Enjoy: