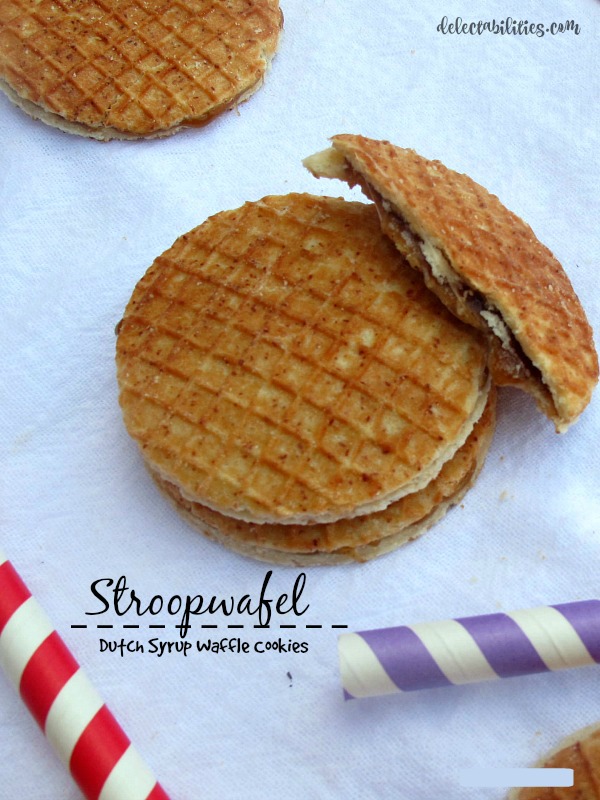 Stroopwafel are Dutch waffle cookies with a dark syrup in the middle. They literally mean Syrup Waffles. In Europe you can buy them packaged in grocery stores. We were first introduced to them when my parents were living in Germany. They are one of those treats that actually comes up conversations about what we miss from Europe.
The tricky part of making these successfully is the waffle iron. My husband wanted me to make these so badly that he found this waffle iron on Amazon and ordered it for me. It's technically for making mini waffle cones, but it worked perfectly. I have heard that a panini press would also work. What you're going for is a really thin waffle. It definitely would not work with a Belgian style iron.
Update September 2018: My daughter and I love to watch the Great British Baking Show, and just started watching the 5th season or collection of Netflix. They actually make stroopwafel as one of the technical challenges! The funniest part is that none of the contestants are able to get it right. They all cooked the filling too long or too quick. My daughter thought it was pretty cool that I had come up with a way to make a recipe that none of them could perfect. And I was dealing with a lack of ingredients that they have readily in the UK. If you try the recipe and have luck with it, I'd love to hear from you!
The dough, when mixed together, should look like this.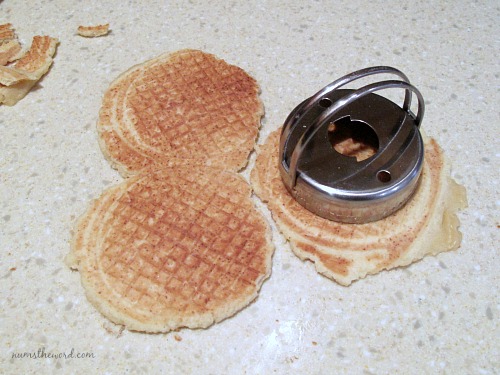 I used a donut cutter without the hole piece, to cut the shape of the cookies as soon as they came out of the waffle iron.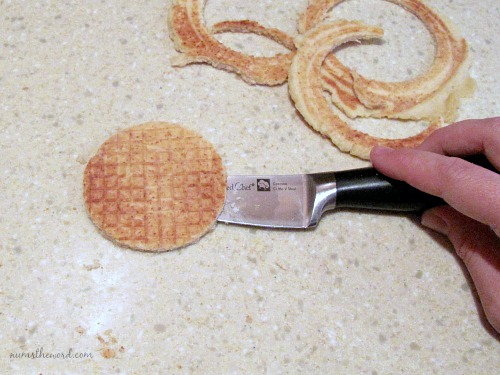 While they are still hot, use a sharp knife to separate the cookies in half.
Ingredients
10 tablespoons butter, melted
2 1/2 cups flour
2/3 cup sugar
4 1/2 teaspoons yeast
1/4 lukewarm milk
1 egg

for the filling

8 tablespoons butter
1 cup brown sugar
1 1/2 cups dark corn syrup
1 teaspoon cinnamon
Instructions
In a large bowl, mix together melted butter, flour, sugar, yeast, milk and egg to combine.
Pour out onto a lightly floured surface and knead for a few minutes.
Allow to rise for 45 minutes.
Make the filling by mixing the butter, corn syrup, brown sugar, cinnamon together in a medium saucepan over medium heat, stirring to combine. Set aside.
Preheat your pizzelle or waffle iron. Knead the dough briefly and divide the into 2 inch balls, or larger depending on the size of your waffle iron pattern.
Place the balls of dough into the preheated iron and cook until golden brown.
Cut excess dough away with a cookie or other cutter or with a knife, and then split it open while still warm.
Spread filling on one half, and then top with the other half and sandwich together.
Notes
Waffles will stay fresh for several days in an airtight container or zip-top bag.
https://delectabilities.com/stroopwafel-dutch-syrup-waffle-cookies/