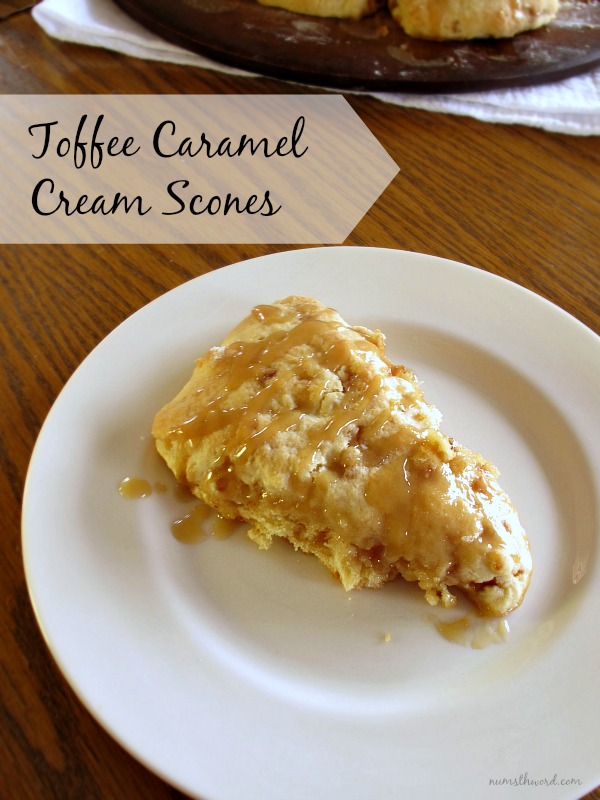 When I think of fall I think of cooler weather, absolutely beautiful colors of changing leaves, and good food.
In particular I think of baked goods with flavors like pumpkin or apple, as well as toffee or caramel. They're all just so warm and inviting.
That's the point, right? To warm you up from the cooler weather and also to make you all warm and happy inside.
Is it weird that I associate my food so closely with my feelings? Oh well.
These scones definitely have the ability to warm you in several ways. They are full of comforting and happy flavors. They are a super moist cream scone with toffee bits and they're drizzled in a caramel cream glaze. Doesn't just reading that make you feel all warm inside?
Perfect for a fall morning, or for a treat after a walk to look at the changing colors or even raking leaves. (This is me imagining again, since fall hasn't hit full force yet and I live in New Mexico. But my East-coast self would love an afternoon filled with leaf hunting and scone eating).
Toffee Caramel Cream Scones
Ingredients
2 1/4 cup flour
1/4 cup packed brown sugar
1 tablespoon baking powder
1/2 teaspoon kosher salt
8 tablespoons cold butter, cut into small cubes
1/3 cup half and half
2 eggs
1/2 cup toffee bits

for the caramel glaze

1/4 cup packed brown sugar
3 tablespoons butter
1/2 teaspoon vanilla
1/3 cup heavy cream
Instructions
Preheat oven to 400 degrees.
In a large bowl, whisk together flour, brown sugar, baking powder, and salt.
Using two knives or your hands, mix the cold, cubed butter into the flour mixture until the butter is mixed in to make a crumbly dough.
Mix together half and half with eggs.
Add wet into dry ingredients and stir just until combined. Stir in toffee bits.
Place on a lightly floured surface and shape into a disk about 8-9 inches in diameter. The dough will be rather sticky, and you can add a bit of flour but no more than a few tablespoons since it will take away from the moistness of the scones.
Using a pizza cutter, cut into 8 equal size pieces and place on a parchment lined baking sheet or on a baking stone.
Bake for 15-17 minutes.

Meanwhile, make the caramel glaze:

Place brown sugar, butter and vanilla in a medium sauce pan over medium heat. Bring to a boil, and watching carefully not to let it boil over, allow to boil for 3 minutes.
Then slowly add the cream and whisk together.
Drizzle over the scones when they come out of the oven, then allow to cool for a few minutes before serving.
Notes
Using my stoneware, I very lightly floured the stone, shaping and cutting all in one place. After cutting, I separated the pieces slightly and baked according to directions.
https://delectabilities.com/toffee-caramel-cream-scones/