I know that it's supposed to be Main Dish Monday. And I'm sorry, but not really. Because I have a main dish for you that just needs a little tweaking, which I will share with you soon. Plus it's Thanksgiving week, which means that the pumpkin season will be over! And looking back, I'm ashamed at my lack of pumpkin recipes. All I posted were these pancakes, and these cookies, and this bread, and these cupcakes and these rolls. Oh and this cheesecake! And don't forget about these donuts and these muffins from last year. Shameful, I know.
Despite the fact that we've obviously shown a good amount of love to the pumpkin treat, I could not let this season go by without sharing this most basic of recipes with you. This is a family recipe and might be my favorite of all the pumpkin treats just because it has that nostalgia attached to it. Plus, it's the only one that my kids and my husband all enjoy as well. I've told you before that my husband doesn't really like pumpkin, but he told me a few years ago that he does like pumpkin rolls. So I tried to make one…and…they're really hard to do. I've tried several times and although they turn out quite edible and delicious, they always crack and don't look quite like his mom's. But in all those attempts, I realize it tastes exactly like my family recipe for these pumpkin bars. Which is really more like pumpkin cake, but I digress. So, I was able to convince my husband that these bars were the same as the rolls just less stressful for me. He likes when I'm not stressed, and admitted to liking the bars. It was a win, win, win!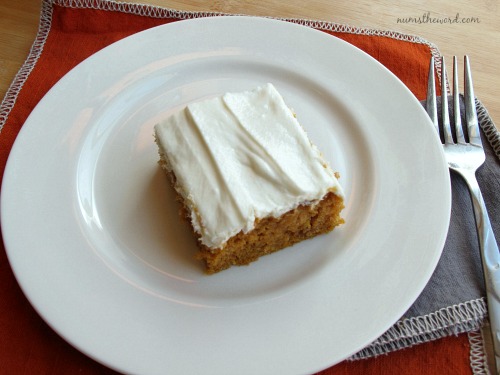 One of the best things about this recipe is how simple it is. The reason I even remembered to make it this year with all the craziness going on, was because they served something similar at a school function and my son wanted seconds. There was a limited amount and a line that went out the cafeteria, so I promised we would make some at home. He was so happy by the prospect of this, that he did not stop reminding me of my promise until we did it. So, my 4 year old and 2 year old really did most of the work. They helped measure and mix and pour it into the pan. Then the sat in anticipation as it baked. And the 4 year old declared mine better than the school cake (that would have been a little awkward if it had gone the other way).
So, although I know pumpkin season is coming to a close, remember that it doesn't have to. You can be like me and have pumpkin pancakes and cake and muffins whenever you darn well feel like it!
Pumpkin Bars with Whipped Cream Cheese Frosting
Ingredients
2 cups flour
1 2/3 cup sugar
1 teaspoon baking soda
1 teaspoon salt
2 teaspoons cinnamon
1 cup vegetable oil
1 (15 oz) can pumpkin puree
4 eggs
1 teaspoon vanilla extract
1 recipe Whipped Cream Cheese Frosting
Instructions
Preheat oven to 350 degrees F. Grease a jelly roll pan and set aside.
In medium bowl, mix together flour, sugar, baking soda, salt and cinnamon. Set aside.
In a large bowl combine oil, pumpkin, eggs and vanilla and mix until well combined.
Add the dry ingredients into the wet and mix until combined.
Spread into prepared pan and bake for 20 minutes.
Allow to cool completely before frosting.
https://delectabilities.com/pumpkin-bars-whipped-cream-cheese-frosting/
You Might Also Enjoy: