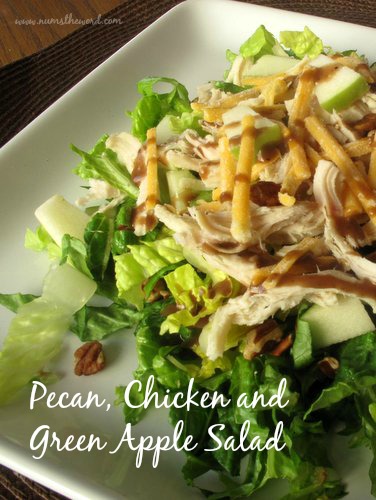 I don't know about you, but after Valentine's Day and all the sugar rush that is involved, a good salad is what I want. And after the particularly extravagant holiday my family just had, we might be eating salad for the next month. So here comes one of my favorites: Pecan Chicken Green Apple Salad. I love all the ingredients in this and it's easy to throw together for the whole family.
I've mentioned before my strange relationship with salads and how I pick one and then eat it everyday until I'm sick of it.
Well, this is my current obsession. I just love all the textures and flavors in this salad and I don't know if I'll get sick of it anytime soon. Which is good, because I sure could use more salad in my life.
Most of the rest of my family are pretty much ranch people. For salads, for dipping pizza and anything else unhealthy. But I love a good vinaigrette. And they're best when you whip them up yourself.
Pecan, Chicken and Green Apple Salad
Ingredients
1 head romaine lettuce
2 cups cooked and shredded chicken
1/4 cup chopped pecans
1/4 cup shredded sharp cheddar cheese
1 granny smith apple, cut into small chunks
Balsamic Vinaigrette (recipe below)
Instructions
Toss all ingredients, besides dressing, together in a bowl.
Pour about 3 tablespoons of dressing over top and toss salad again.
Serve with more dressing on the side, if you so desire.
https://delectabilities.com/pecan-chicken-green-apple-salad/
Ingredients
1/2 cup olive oil
1/4 cup balsamic vinegar
2 cloves garlic, minced
1/4 teaspoon black pepper
1/4 teaspoon kosher salt
1/2 teaspoon dijon mustard
1/2 teaspoon sugar
Instructions
Combine all ingredients in a bowl and whisk together until combined. You'll need to mix again before serving.
If you want a smoother dressing that doesn't separate, combine all ingredients except the oil in your blender or food processor. Slowly add the oil in a steady stream while the blender or processor is on.
https://delectabilities.com/pecan-chicken-green-apple-salad/