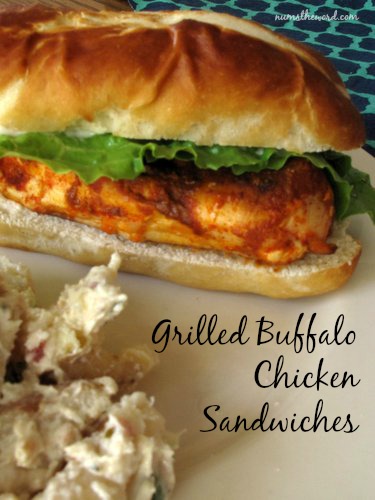 It's definitely gotten warm here and our kitchen seems to be hot even if we don't turn on the oven. So, I have basically decided that if I can't grill it or make it in the crockpot, we'll wait for a rainy day. Literally.
And, I'm actually really excited about it. I love the fresh that comes with summer.
These sandwiches are one of our favorites and have been for a long time. We like spicy. We like chicken. We like anything that you can justify drowning in ranch dressing. And this sandwich is awesome with ranch or bleu cheese dressing to cool down the spices.
We have used lots of different types of buns, but of course one of our favorites is these pretzel breadsticks made into buns.
I prefer it with lettuce, tomato and a bit of ranch and maybe a lot of ranch depending on if my husband added a bit more spice just because. He prefers them with the same, minus tomato and plus a slice of pepperjack cheese.
Grilled Buffalo Chicken Sandwiches
Ingredients
2 teaspoons paprika
2 teaspoons chili powder
4 chicken breasts
1/2 cup buffalo flavor wing sauce
4 buns
Pepper jack cheese, if desired
Lettuce
Tomato slices
Bleu cheese or ranch dressing
Instructions
In small bowl, combine paprika and chili powder and sprinkle over both sides of chicken breasts.
Grill chicken until done, turning once, until no longer pink in center or about 8-12 minutes.
Place a large saucepan over low heat and add olive oil. Heat for 1 minute, then add the wing sauce.
When the chicken is cooked through, remove from grill or skillet and place in saucepan to cover with the wing sauce mixture.
Prepare buns with lettuce, tomato, cheese, and dressing. Add chicken and enjoy!
https://delectabilities.com/grilled-buffalo-chicken-sandwiches/
Another Recipe You Might Love…