This stromboli recipe has been in our family for years. It is from a family that my husband and I both grew up with and love.
My family makes it, and my husband's family makes it. And we all love it.
My kids probably like it more than pizza. They get so excited when we have it. And so do I. Mostly because it is the one meal that my husband is always in charge of.
And if my husband can handle it, you sure can. Not to say my husband can't handle himself in the kitchen. He can. Because I've seen him. But as soon as we got married he somehow forgot all those skills that he once possessed and now knows nothing. Nothing except how to make this stromboli. I actually had to ask him the specifics of the layering. It's his thing.
Turning it into a mummy was just a simple idea that turned out to be a fun one. Serve them with marinara sauce for some extra creepy bloody mummies. My kids really like to dip them in ranch. We pretended the ranch was the mummies' gooey parts coming out of the wrapping. Gross, I know. But that's what my kids like for halloween: creepy and gross.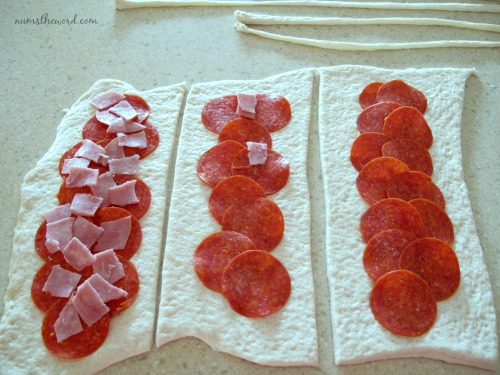 Ingredients
1 recipe pizza dough (here's our favorite Whole Wheat Crust or you can use our Pretzel Dough, but this works great with store bought dough as well)
1/2 pound Italian sausage, browned
pepperoni or salami
deli ham, chopped
2 teaspoons Italian seasoning
2 cups mozzarella cheese
2 tablespoons butter, melted
1/2 teaspoon garlic salt
black olives, for eyes
Instructions
Roll out dough into large rectangle.
Cut 6 long, very thin strips of dough and set aside.
Divide the rest of the dough into either 3 large pieces or 6 individual size pieces.
On each strip of dough, place pepperoni down the middle, leaving plenty of room on each side.
Top pepperoni with thin layer of cheese and sprinkle with Italian seasoning.
Top with cooked sausage and another thin layer of cheese.
Top with chopped ham and one more thin layer of cheese and a sprinkle of Italian seasoning.
Fold sides over the filling and pinch to seal.
Take one of the long thin strips and wrap around the stromboli very carefully. The length of the stromboli will probably stretch as you do, just be careful not to tear the dough and expose the filling.
Bake according to the instructions of the dough you're using.
When they come out of the oven brush with melted butter mixed with garlic salt.
Place the olives at one end to look like eyes.
Notes
We also tried a dessert version by putting mini marshmallows and mini Reese's Peanut Butter Cups in the dough and wrapping it up and baking in the same way. The marshmallows melted entirely (disappear) but the taste was just awesome, and we used chocolate chips for the eyes.
https://delectabilities.com/mummy-stromboli/