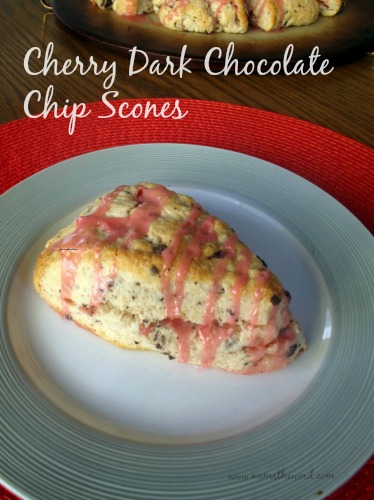 It is February. That means it's Valentines time! We here at Num's The Word have several awesome recipes for the you to help you celebrate in whatever way you choose.
To start off the month, I'm bringing you the Cherry Dark Chocolate Chip Scones. Mmm hmm. I believe I've already mentioned how I love scones. Here and here. We like them a lot. And it just seemed natural to make a version appropriate for this love-filled season.
Because Valentine's Day is all about showing your love, and if someone made these for me, I would for sure love them! If they brought it to me as breakfast in bed, well, I would be in shock. But it would be awesome.
My kids tried to bring me breakfast in bed one time by themselves. They did better than I thought. As in, they didn't destroy the kitchen. They brought me a bowl of grape nuts (which I only keep in the house because I use them in a granola that I make) with milk (which I can't drink anymore). It was so sweet, though. I gulped down a few bites and made sure I was very appreciative. Now to teach them how to make something delectable like these scones, then I'd pretty much be done with my part in training perfect children, right?
Cherry Dark Chocolate Chip Scones
Ingredients
2 1/4 cups all-purpose flour
1/4 cup sugar
1 tablespoon baking powder
1/2 teaspoon salt
12 tablespoons cold unsalted butter, cubed
2 eggs, lightly beaten
1/2 cup cold heavy cream
4 teaspoons juice from jar of maraschino cherries
1/2 cup dark chocolate, chopped

For the Glaze:

1 tablespoon juice from jar of maraschino cherries
1/2 cup powdered sugar
Instructions
Heat oven to 400. Line a baking sheet with parchment paper or silicone liner.
Combine flour, sugar, baking powder and salt in a mixer with a paddle attachment.
Cut the cold butter into small chunks and slowly add to the dry ingredients with the mixer on low. Mix until the butter is distributed and is pea-sized.
In a separate bowl, mix together the eggs, cream, and cherry juice.
Turn the mixer on low and slowly add the cream mixture. Turn off the machine once added.
Turn the dough out onto a floured surface. Add more flour to the top of the dough and pat it down to flatten into a circle about 8-9 inches in diameter. Cut into pieces like a pie.
Separate the pieces and put them on the prepared pan. Bake 15-17 minutes.
For the glaze:
Whisk together the cherry juice and the powdered sugar until smooth. Drizzle over scones after they have cooled for a few minutes.
https://delectabilities.com/cherry-dark-chocolate-chip-scones/
Recipe adapted from Jenny Steffens
You Might Also Enjoy: