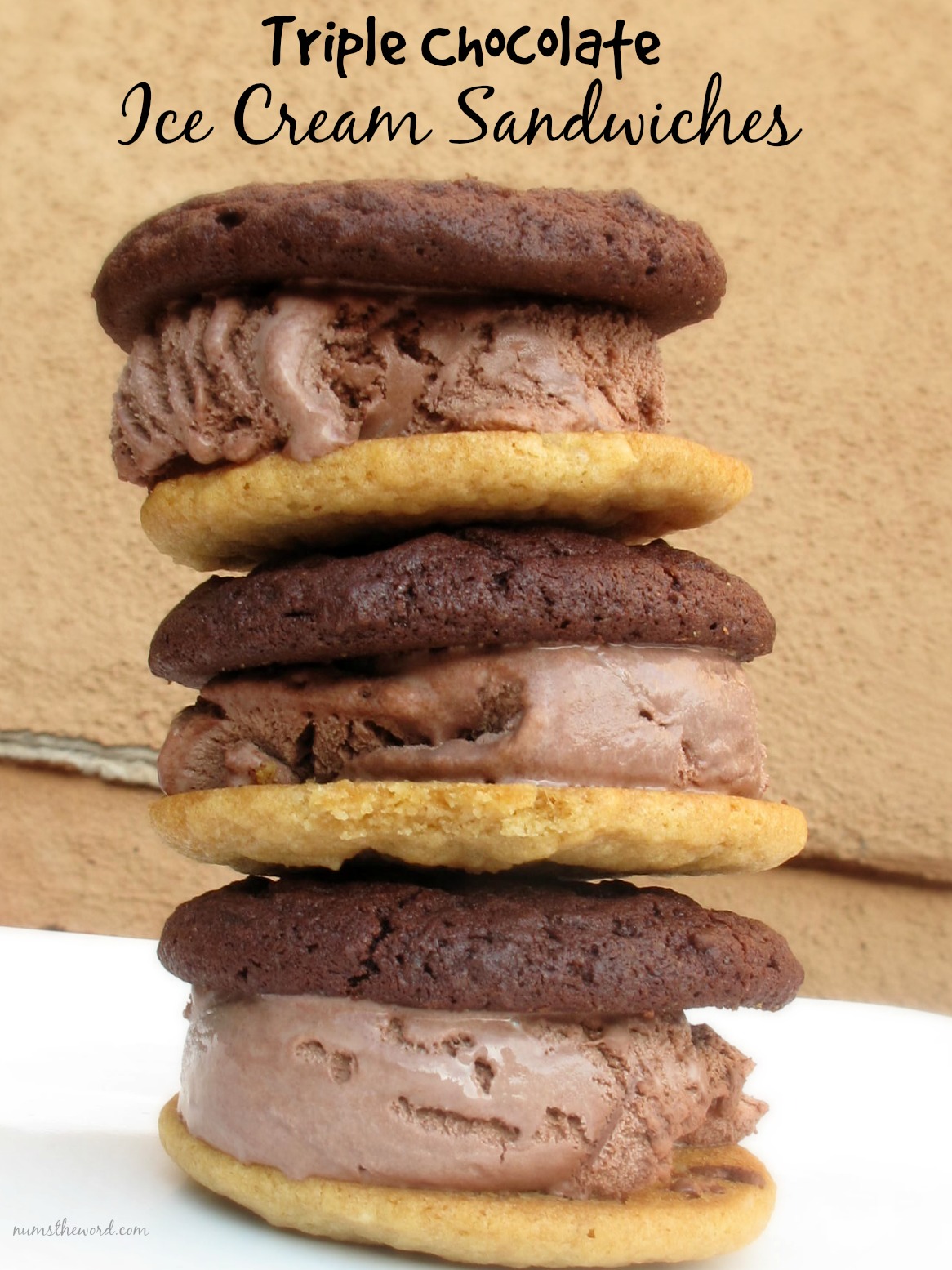 If anyone ever asked me, I would have to say that ice cream is my favorite treat.
There are just so many things you can do with it. You can mix an endless number of things into it. And with the amount of flavors out there, that makes for numerous possibilities itself. You can put it on top of other warm treats to turn it into something a bit more amazing. You can turn it into a shake. There are ice cream pies and cakes. Sundaes, blizzards, malts, smoothies…
I could go on and on. And I love them all. They make me happy. When I've had a bad day, my husband knows to bring out a container of ice cream (that must involve chocolate) and a spoon. This does not mean I eat the whole container, but there is something therapeutic about eating it straight out of the container.
So, this brings me to today's recipe. First of all, tomorrow August 2nd, is National Ice Cream Sandwich Day. I know that some of these holidays are silly, but if they involve something yummy, why not use the excuse? Right?
Second, we've had lots of family come visit us this summer. Which means that 1) for some reason, they expect me to make yummy treats quite frequently and 2) I actually get to go to the store without the distractions of 3 crazy children. During one of those trips to the store I saw several new flavors of pudding. We're not big pudding people around here, but the white chocolate and dark chocolate pudding struck me as something that I could work with. As I was pondering what to do with them, I remembered that this holiday was coming up and I knew exactly what I wanted to do: an ice cream sandwich involving 2 different cookies and chocolate ice cream.
At the time my mom and sister were visiting, and I knew that an uber-chocolate treat would be a big hit. And it's a good thing I did. We all loved them and so did the kids. My husband, who is not a chocolate lover, thought it was a bit much. That let me know that it was probably perfect.
So, here you go. Triple Chocolate Ice Cream Sandwiches. Make them if you're in denial that summer is almost over, just like me. Enjoy!
Triple Chocolate Ice Cream Sandwiches
Ingredients
Instructions
Make the white chocolate cookies using the chewy chocolate recipe, substituting the cocoa for 1/4 cup coconut and the chocolate pudding for white chocolate pudding, and leave out the chips
Make the dark chocolate cookies using the chewy chocolate recipe, simply substituting the chocolate pudding for a dark chocolate pudding, and leave out the chips.
Once cookies are cool, place 1 scoop of chocolate ice cream on each of the white chocolate cookies and top with a dark chocolate cookie.
Either enjoy right away, or place individual sandwiches in ziptop baggies and freeze until ready to eat.
https://delectabilities.com/triple-chocolate-ice-cream-sandwiches/
Another Recipe You Might Love…
Cranberry White Chocolate Chip Crumble Bars