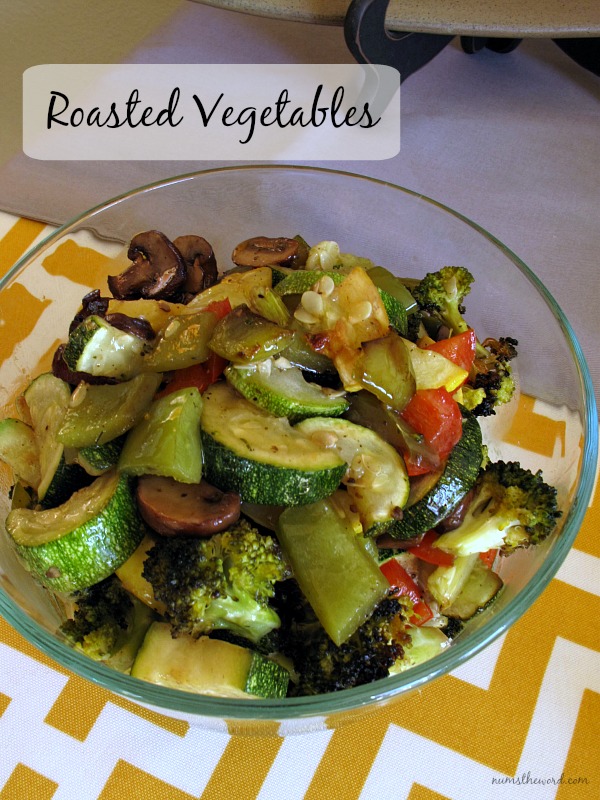 I love vegetables. I always have. More than fruit.
When I was little, my mom had to warn me against eating too many carrots because she was worried my skin would turn orange (or is it yellow?). In college, one of my favorite late night snacks was a bowl of peas with a cup of chocolate milk.
Even writing that right now, I know it sounds disgusting. I'm sorry. But vegetables were always a favorite. And I love them cooked simply. Roasting them really might be one of my favorite ways to cook them. And you can change up this dish so much just by using different vegetables. I love big chunks of onion, bell peppers, mushrooms. This was the first time we tried broccoli this way, and it was awesome! And my non-vegetable eater tried some and then sat the bowl in front of her to pick out all the rest of the broccoli! If that's not a win, I don't know what is!
I know this is not a new recipe by any means. It's not meant to be. I'm sharing this because it's one of my favorite ways to eat one of my favorite foods.
Ingredients
1 large yellow squash, cut into half moons
1 large zucchini, cut into half moons
8 oz. portobello mushrooms, sliced
Florets from 1 large head of broccoli
1 red pepper, chopped
1 green pepper, chopped
3 tablespoons olive oil
2 teaspoons kosher salt
1 1/2 teaspoons ground black pepper
Instructions
Preheat oven to 425 degrees F.
Place all the vegetables in a large bowl.
Drizzle with olive oil and add salt a pepper.
Toss it all to get all the vegetables evenly coated.
Spread the vegetables out on a jelly roll pan, using 2 if needed.
Place jelly roll pan(s) in the oven and roast vegetables for about 35-40 minutes, checking and stirring the vegetables every 15 minutes.
Notes
These are the vegetables we used this time, but you can use your favorites: cherry tomatoes, sweet potatoes, carrots, cauliflower.
https://delectabilities.com/roasted-vegetables/