I first posted these Red Hot Cookies last July for a treat for Independence Day. But what better time to have a red hot cookie than on Valentines Day, right?
Especially popular for those who aren't totally in love with chocolate. That wouldn't be me, but I know that there are lots of individuals out there that don't love it. This is a good alternative.
When I was trying to come up with something exciting for the 4th of July, I found a lot of ideas out there. Lots of them are simple and lots of them are really fun or cute. But there really aren't very many that don't involve fruit.
Not that I don't love fruit. I'm actually a big fan. But I was looking for something different. And these cookies that have the flavor and color of red hots are just perfect! And they passed the test with even the super-pickiest of my children AND my husband (who may have scoffed at the idea of a baked good that tasted like a red hot).
I saw the idea of using cinnamon oil in a cake in a magazine. But the recipe was one of those really complicated ones with lots of eggs and after reading it I was worried I might not be able to handle all the precise steps involved. So, I decided to simplify and make cookies using a cake mix. Super simple and really, really good!
Now, let's talk about cinnamon oil. I had never used it before, and so I went looking not really knowing where to look. I started at our local Albertsons and they had cinnamon extract, but I wanted to see if I could find oil. So I went to Whole Foods, thinking that would be THE place. But all they had was cinnamon flavor. I bought it, mostly because I didn't want to wait to try these cookies that I'd built up in my mind and was excited to try. So, my suggestion would be to use whatever of the three (oil, extract, flavor) that you can find, and adjust accordingly (see notes).
You won't believe how awesome a simple cream cheese frosting tastes on these bad boys. It complements the flavor of the red hot cinnamon in the cookies perfectly. So, I've included a basic cream cheese frosting that I used. But, for simplicity, any store bought frosting would work as well.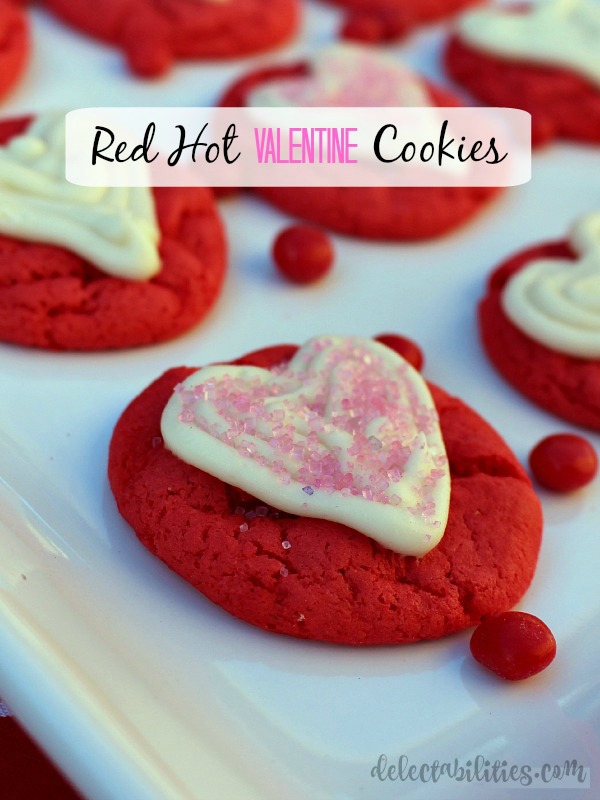 Ingredients
1 white cake mix (I used Duncan Hines)
2 tablespoons flour
1/3 cup canola oil
1/2 jar red gel food coloring (I use Wilton's no taste red)
2 eggs, lightly beaten
2 teaspoons cinnamon flavor*
cream cheese frosting
red, white, and/or blue sprinkles
Instructions
Heat oven to 350 degrees. Prepare cookie sheets with parchment paper or silicone liner.
Mix cake mix and flour together.
Make a well in the dry ingredients and add all the wet ingredients and then mix until well combined.
If dough is a bit sticky, place in the fridge for about 30 minutes.
Take teaspoon size portions and roll them into balls. Place on the prepared cookie sheets and bake for 8-10 minutes.
Allow cookies to cool on a cooling rack.
Spread or pipe frosting on cookies and top with sprinkles, if desired.
Notes
*I could only find cinnamon flavor and it worked great, but if you find either cinnamon oil or cinnamon extract (which would both be more potent) you should cut the amount to 1 teaspoon.
https://delectabilities.com/red-hot-cookies/
Simple Cream Cheese Frosting
Ingredients
1/2 cup butter, softened
8 oz cream cheese, softened
1 teaspoon vanilla
3-5 cups powdered sugar
Instructions
Cream together butter and cream cheese for about 5 minutes until light and creamy.
Add vanilla and beat for another minute.
With mixer on low, slowly add powdered sugar until desired consistency is reached, adding a drop or two of milk if needed.
https://delectabilities.com/red-hot-cookies/