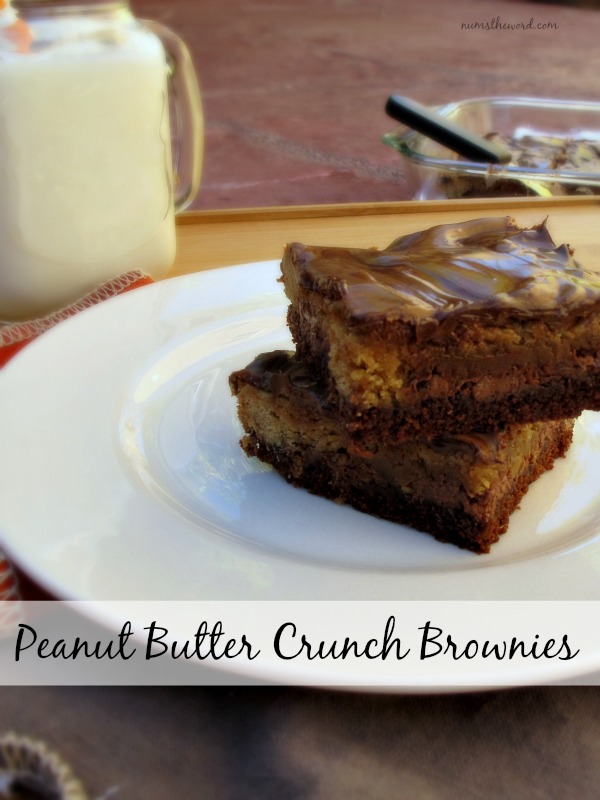 We are now smack dab in the middle of the season in which there is candy everywhere. Some of it is great and some of it could be a lot better repurposed, to use that recently overused word.
We here at num's sure like to give you great ideas for this purpose. Janelle has made some awesome recipes out of Tootsie Rolls. Which I think is genius. Because seriously, isn't that what's left of the Halloween loot after a few days? It is in our house.
As I stared at our stash of candy that's just waiting to be unleashed on the masses in a few days, I noticed one candy bar that I would have put in that same category: Nestle Crunch Bars. Don't get me wrong. They are good. They're just not great in my mind. They need a little something. Have you ever tried one dipped in peanut butter? Something I took away from my college days. It definitely takes crunch bars to a whole new level.
And that, my friends, was the inspiration for these awesome brownies. Chocolate, peanut butter, and a layer of candy bars in the middle. It's pretty much amazing.
Feel free to try other chocolate bars in the middle. Be creative, but I love the crunch in the middle of the gooey goodness!
Peanut Butter Crunch Brownies
Ingredients
1/2 cup butter, melted
1/2 cup sugar
2 eggs
1 teaspoon vanilla extract
1/2 teaspoon salt
1/2 cup flour
1/4 cup cocoa
20 fun size Nestle Crunch bars, unwrapped
2/3 cup brown sugar
3 tablespoons butter, melted
1/3 cup peanut butter
1/2 teaspoon vanilla extract
2 eggs
1 cup flour
1/2 teaspoon baking powder
1/4 teaspoon salt
1 cup chocolate chips
1 cup peanut butter
Instructions
Preheat oven to 350 degrees. Spray a 13x9 pan with cooking spray.
For the brownie layer, mix 1/2 cup melted butter, 1/2 cup sugar, 2 eggs, 1 teaspoon vanilla and 1/2 teaspoon salt in a large bowl.
Add flour and cocoa and mix just until combined.
Carefully spread over the prepared pan and bake about 8-9 minutes, just until it starts to set.
While it is baking, make sure your candy bars are unwrapped and prepare the peanut butter layer:
Mix together brown sugar, butter, 1/3 cup peanut butter, vanilla and eggs.
Add flour, baking powder and salt and stir until combined.
When brownies come out of the oven, place the candy bars on top, trying to cover as much as possible (if you've got more, you can use them!).
Then carefully spoon over the peanut butter layer and try to spread it so that the chocolate is covered - it can be a bit tricky, just remember that it doesn't have to be perfect because you're going to cover it later.
Bake for an additional 15-20 minutes or until it starts to appear golden brown.
Immediately spoon peanut butter over the top in about 6 dollops and then sprinkle with the chocolate chips.
Allow to sit for a few minutes and then spread with a spatula, mixing the melted chocolate and the peanut butter to cover the whole thing.
Cool completely before serving. You can even place it in the refrigerator for 30 minutes to help the top to cool and solidify.
https://delectabilities.com/peanut-butter-crunch-brownies/