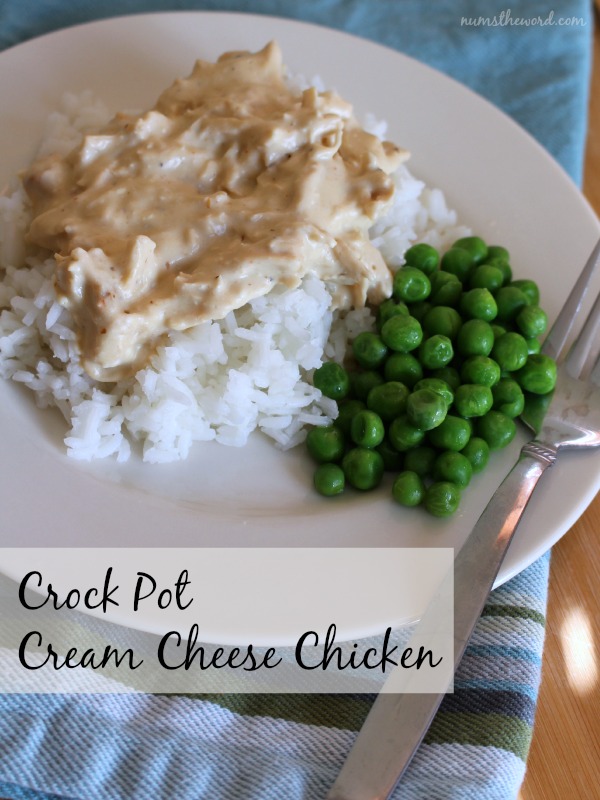 Since starting this bog, there have been a couple times that I get so caught up in making something new and exciting that I completely forget about tried and true simple recipes like this one.
We haven't made this Crock Pot Cream Cheese Chicken for a few years, probably because I was so into finding new things that I just forgot about it.
This Crock Pot Cream Cheese Chicken is one of those recipes that I had never written down. I had been served it at someone's house and they told me what was in it, and it was so simple that I never thought to write it down. I just made it several times … and then completely forgot about it.
So when I remembered again, I had to tweak it a bit to get the right proportions. Which means we've been eating a lot of this lately. And my husband still likes the leftovers. That tells you something. This is really good.
This recipe is very simple. Only 4 ingredients and a few hours in the crock pot. Seriously my kind of recipe.
We serve it over rice or pasta and with some green veggies to bring some color!
Crock Pot Cream Cheese Chicken
Ingredients
1 pound boneless skinless chicken breasts
8 oz cream cheese, cubed
1 can cream of chicken soup
1/2 cup Italian dressing
Instructions
Spray crock pot with cooking spray and place chicken in the bottom.
Place cream cheese, cream soup and Italian dressing over the chicken.
Cook on low for 5-6 hours.
When chicken is done, take out of the crock pot and shred.
Stir the sauce until combined and put the shredded chicken back in the sauce.
Keep warm until ready to serve.
https://delectabilities.com/crock-pot-cream-cheese-chicken/
Another Recipe We Think You'll Love…