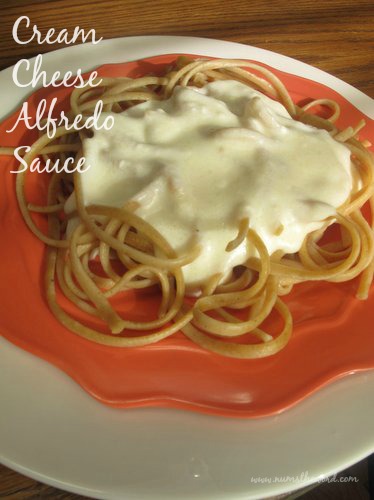 On this lovely Friday, I'm going to share with you our family's favorite Alfredo Sauce.
What is so amazing about this sauce? Let me tell you.
There's this guy I'm married to. I've told you about him before. He'll try most things, and even if he liked it and then finds out it's healthy, he suddenly doesn't like it anymore.
This recipe is the only exception. Ever.
It's Alfredo Sauce that's made with light cream cheese and low-fat milk, but it has so much flavor that you really wouldn't know. It could be because it starts with garlic sautéed in a bit of butter, or that it ends with a bunch of parmesan cheese. You see, this Alfredo Sauce definitely isn't health food, but it sure is a lightened up version from those with cream and such.  Give it a try!
Ingredients
2 cups low fat milk
1/3 cup low fat cream cheese
2 tablespoons flour
1 teaspoon salt
1 tablespoon butter
3 garlic cloves
1 cup grated parmesan cheese
Instructions
Add milk, cream cheese, flour and salt in a blender. Process until smooth and set aside.
In a non-stick sauce pan, melt butter on medium-high heat and add garlic.
Let garlic cook for about 30 seconds, until it's bubbly, but don't burn it!
Then add milk mixture to the pan. Stir constantly for about 3 or 4 minutes or until it comes to a simmer. Keep stirring and let it cook a few more minutes until it thickens.
When it's thickened, remove pan from heat and add the cheese.
Stir and cover immediately. Let stand for about 10 minutes before using.
https://delectabilities.com/cream-cheese-alfredo-sauce/
Recipe from Our Best Bites