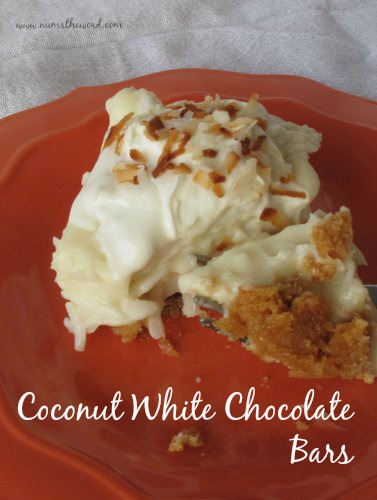 I've mentioned before that there are only a few flavors or flavor combinations that both my husband and I enjoy. One of those is coconut.
And neither of us is really pie people. My dad would make several different pies every thanksgiving, and his coconut cream pie was always my favorite. So good!
When we were first married, we went to a church activity and someone had brought this version with white chocolate (in pie form) and we both fell in love. We've had it about once a year since then, without fail.
This time I decided to make it in bar form. Not for any particular reason, I just thought I'd give it a try.
There are several things I love about this recipe:
1. The crust. I've always preferred graham cracker crust to traditional, and this one takes it to another level by adding coconut into the crust as well!
2. The layer of white chocolate on top of the crust. Nothing bad about that, I can tell you.
3. It's topped with simple sweetened whipped cream.
As with most cream pies, this one takes a little effort to get the cream part right. But, I am no expert and I've been able to get it right every time following these directions. Hopefully it works out for you too!
Coconut Cream Pie White Chocolate Bars
Ingredients
1 cup coconut
3/4 cup graham cracker crumbs
1/4 cup melted butter
2 cups milk
1 cup coconut
6 egg yolks
3/4 cup sugar
1/2 cup flour
1 tablespoon butter
4 ounces white chocolate baking bar
2 cups whipping cream
1/2 cup powdered sugar
toasted coconut
Instructions
Preheat oven to 350 degrees.
Prepare crust by stirring together 1 cup coconut, graham cracker crumbs and 1/4 cup melted butter.
Press onto bottom of 8 inch square pan. Bake for 10 minutes. Cool
To prepare filling, heat milk and 1 cup coconut in a large, heavy saucepan just to simmering, stirring occasionally.
In a mixing bowl, combine egg yolks, sugar and flour. Beat with electric mixer on medium-high speed until combined.
Gradually stir 1 cup of hot milk mixture into the egg mixture.
Stir egg mixture into remaining milk in saucepan. Cook and stir until mixture comes to a boil.
Cook and stir 2 minutes more. Remove from heat.
Stir in 1 tablespoon butter then cover surface with clear plastic wrap. Cool.
Melt white chocolate in the microwave on medium heat for 1 minute. Stir. Microwave in 30 second increments, stirring after each until melted and smooth.
Pour over crust. Allow to cool until firm.
Pour filling into crust. Cover and chill 2 to 4 hours.
Beat whipping cream and powdered sugar until stiff peaks form.
Cut bars and top with whipped cream and toasted coconut.
https://delectabilities.com/coconut-cream-pie-white-chocolate-bars/
Recipe given to me by my friend Amanda