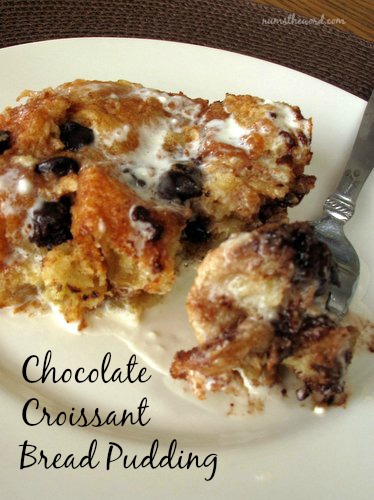 Ok. Are you ready for this?
Because I feel like I've been waiting for-ever to share this awesome recipe with you! It is that amazing.
Now, if you've never had bread pudding or even just not good bread pudding, I am so sorry. And let this change that. It's easy and it is so very good. Like eye-rolling good.
I actually started out trying to duplicate a bread pudding my husband and I had tried at a restaurant. It used brioche bread, and there weren't any local store that carried it. I even tried to make some and it was an epic fail. So I waited a few days and ended up using a lot of ideas from several different recipes and an idea from my genius of a sister. What came from it is nothing shy of fabulousness.
Now, I had made bread pudding before and it was okay. And it was much better with vanilla ice cream. So, of course, that's what I initial tried with this one. It was just not right. So I whipped up a simple cream sauce with the left-over mascarpone cheese and that was that! I don't know how many times or ways I can say this – amazing, delicious, delectable, superb, scrumptious. Just try it. It will make me so happy to know that others are sharing in the gloriousness (and no, I'm not being too dramatic)!
Chocolate Croissant Bread Pudding with Mascarpone Cream Sauce
Ingredients
1/4 cup butter (half of a stick)
1/2 cup sugar
1 teaspoon cinnamon
1 teaspoon vanilla
2 eggs
1/3 cup mascarpone cheese
1/4 cup heavy cream
1/2 cup milk
6 croissants
1/2 cup chocolate chips
1/2 cup mascarpone cheese
1 teaspoon vanilla
3-4 tablespoons milk
Instructions
Preheat oven to 350 degrees. Grease a square 8 inch pan with cooking spray.
In a food processor, combine butter and sugar and process until well blended. Add cinnamon and vanilla and pulse to combine.
Add the eggs one at a time into the mixture while the processor is running. Turn off the machine and scrape down the sides. Add the milk, cream and mascarpone cheese and pulse to combine.
Break up the croissants into 1-inch pieces and layer in the prepared pan.
Sprinkle the chocolate chips or chopped chocolate evenly over the pieces.
Pour the egg/milk mixture over the croissants and soak for 10-12 minutes. You will need to make sure all the pieces are covered and might need to pouch them down during the soaking process.
Cover with foil and bake for 35 minutes. Remove foil and bake for another 10 minutes to brown the top. It will be done when the custard is set, but still soft. Allow to cool.
While it is cooling, whip up your sauce by combining the mascarpone cheese, milk and vanilla. Whisk until smooth. Spoon over individual servings of warm bread pudding. Mmm...
https://delectabilities.com/chocolate-croissant-bread-pudding-mascarpone-cream-sauce/