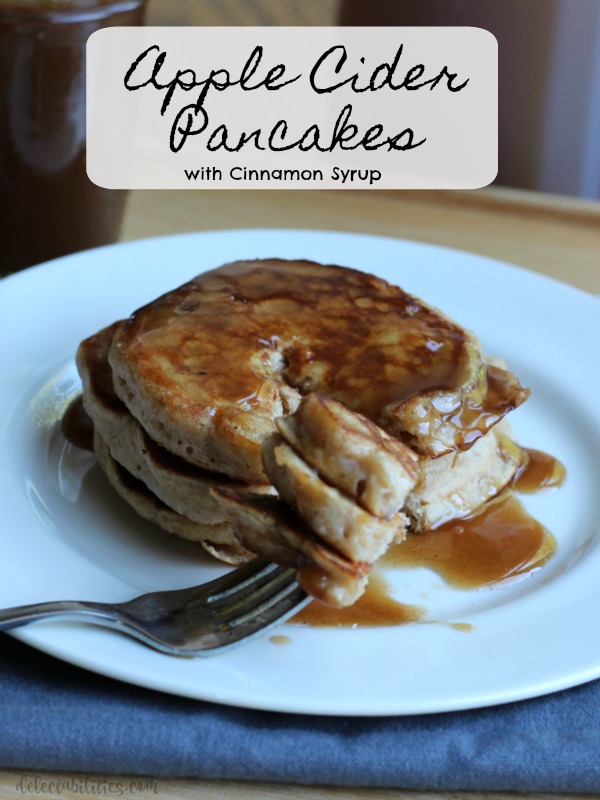 Apple Cider Pancakes have been on my mind for a few years. When we lived in Michigan, fall means going to apple cider mills. They have all the things that pumpkin patches have, except some don't have pumpkins. They have hay and places for the kids to play and get the clean kind of messy. But most importantly they have apple cider and apple cider donuts. That's really why everyone goes. For the donuts and the cider.
I've already talked about my relationship with donuts, with this recipe for these fall flavored donuts. Pancakes are really more my thing. And my family's. As a matter of fact, when we lived in Michigan, pancakes were a staple at our house. My husband was very busy with his residency and I had baby number 4 just a few months after moving there. And for some reason, pancakes is what happened to work for those days that I couldn't do anything else. Breakfast for dinner was a common occurrence. It had a lot to do with that I could cook up a whole bunch at one time and then re-heat really easily later. And my kids would eat them. So, win.
These pancakes in particular came because also in Michigan you can find good, fresh apple cider everywhere in the fall. I wanted to do something fun with it, and this just seemed to make sense to me. The pancakes themselves aren't super strong with the cider flavor, but when you pair with the cinnamon syrup, it's fall deliciousness.
Ingredients
1 1/2 cups all purpose flour
1 1/2 tablespoons baking powder
1 teaspoon cinnamon
1/8 teaspoon nutmeg
1 teaspoon salt
3 tablespoons butter, melted
1/2 cup apple cider
1/2 cup milk
1/2 teaspoon vanilla
1 egg

For the Cinnamon Syrup

1/2 cup granulated sugar
1/2 cup brown sugar
2 tablespoons flour
3/4 teaspoon cinnamon
1 teaspoon vanilla
1/2 cup water
1/2 cup apple cider
Instructions
In medium bowl, mix together flour, baking powder, cinnamon, nutmeg and salt.
In separate large bowl combine remaining ingredients.
Pour the dry ingredients into the wet and mix just until combined.
Heat griddle to medium heat. Use butter or non-stick spray to grease the griddle.
Using 1/3 cup of batter, cook until golden, about 2 minutes per side.

For the cinnamon syrup:

Stir sugars, flour and cinnamon in a medium saucepan over medium heat. Stir in the vanilla, water and apple cider and bring to a rolling boil. Serve over warm pancakes.
https://delectabilities.com/apple-cider-pancakes/
You Might Also Enjoy: