I had planned on doing this new pizza and sharing my tips on how to shape the dough like a heart on this, the first Monday in February for a long time. But I didn't realize until now that it was going to be Groundhog Day!
I don't really know what difference that makes. It's not like I was going to share a recipe using groundhog or anything like that. Maybe I could have come up with something good.
I guess it'll have to wait another year. Oh, well. Even without a cool current holiday related recipe, I wish you all a very Happy Groundhog Day!
And now it's time to move on to the really important holiday this month. Or at least the one that keeps stealing all the thunder: Valentine's Day.
It's coming! And if you're anything like me, you'll want to do something fun without a whole lot of effort or planning. Not that I'm not good at planning. Just sometimes I don't want to plan. Which means I forget that the holiday is even coming until the day before (like the whole Groundhog Day thing).
Anyway, I decided to share with you another fantastically yummy pizza that our family loves and also give you the oh-so-original idea of shaping the dough like a heart. I know, I know. You've never seen this before and I am amazing. It's alright, you don't need to say it. I already know.
This pizza is pretty simple in it's flavors as well. We almost always have pesto on hand. We use it with pasta and on sandwiches. I'm actually kind of surprised we had never used it on a pizza before. Anyway, we kept the rest pretty simple: shredded chicken, tomatoes and mozzarella cheese.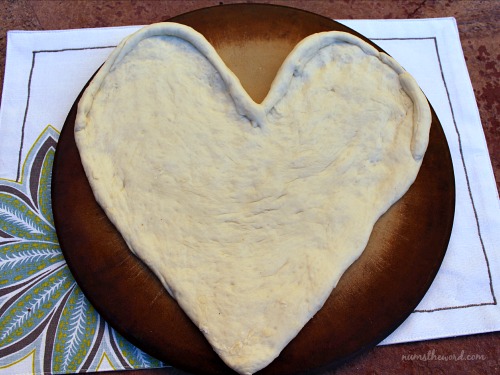 So the only part that takes any time or effort is the dough. I used our pretzel dough just because I know how easy it is to work with. And for shaping it into a heart, it worked very nicely. I basically rolled it out, and placed my finger in the center at the top as I rolled to make the indent at the top of the heart. As I shaped, I of course tried to keep it pointy at the bottom and looking like a heart. In the end, though, I took my pizza cutter and shaved off a bit from both sides so that it looked a bit more presentable.
And what did I do with those strips of dough? Well, you could twist them and make them into breadsticks. But I actually just rolled it out a bit and added it onto to the edge of the crust, because I am a crust lover and like to have a bit more on the edge. Can you see that in the picture?
Ingredients
1 recipe pizza dough (like this Whole Wheat or use 1/2 recipe of this Pretzel Dough
1/3 cup prepared Pesto sauce
2 cups cooked shredded chicken
1/2 cup fresh chopped tomatoes
2 cups shredded mozzarella cheese
Instructions
Preheat oven according to dough directions (usually 375 or 400).
Roll out your dough to the desired shape and thickness.
Spread pesto sauce over the dough, then sprinkle with half of the cheese.
Spread chicken over all of the pizza, then sprinkle the rest of the cheese and top with tomatoes.
Bake according to directions, making sure crust is done all the way through if you've made a fun shape (like a heart;).
https://delectabilities.com/pesto-chicken-pizza/
One Year Ago, 2014