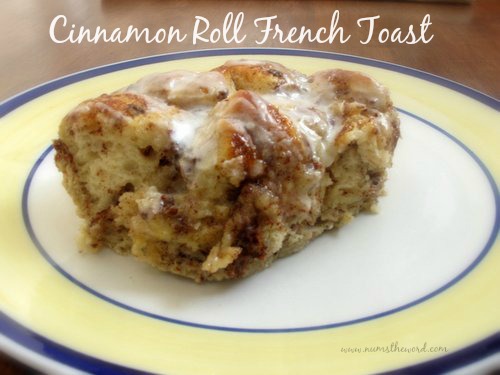 Cinnamon Roll French Toast is such a delectable breakfast that tastes more like a dessert. I first made this pan full of deliciousness while I was with my family for Christmas. To say that it was a big hit would be an understatement. Everyone loved it! I mean, what is not to love? It has cinnamon rolls. It is French toast. And it has frosting on top. Using refrigerated cinnamon rolls makes this a super fast and easy breakfast to throw together.
And that's not even the best part! Even though it sounds like it would be way too sweet and just too much for breakfast, everyone agreed that it was the perfect amount of sweet and not "too much".
Everyone liked it so much that I was informed I would need to make it again before we went home.
Cinnamon Roll French Toast
Ingredients
1/4 cup melted butter
2 cans refrigerated cinnamon rolls
5 eggs
1/2 cup heavy whipping cream
2 teaspoons cinnamon
2 teaspoons vanilla
1 cup chopped pecans (optional)
Instructions
Heat oven to 375. Spray 9x13 pan with cooking spray. (Even with the melted butter in the bottom of the pan, this helps a LOT with clean up)
Melt butter and pour in the bottom of the pan.
Separate the cinnamon rolls and put the frosting aside.
Cut each of the cinnamon rolls into quarters and lay on top of the butter in the bottom of the pan
Mix eggs, whipping cream, cinnamon and vanilla in a bowl. Beat well.
Pour the egg mixture over the cinnamon rolls.
Sprinkle the nuts over the top, if desired.
Bake for 28-30 minutes.
Microwave the frosting for 10 seconds and then spread over the Cinnamon Roll French Toast.
https://delectabilities.com/cinnamon-roll-french-toast/
Adapted from Little Dairy on the Prairie
You Might Also Enjoy: